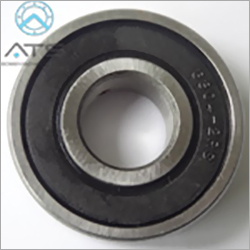 Deep Groove Ball Bearing 6304-2RS
Product Code : 06
1.00 - 2.00 USD ($)
Price And Quantity
Minimum Order Quantity

:

1
Unit of Measure

:

Piece/Pieces
Price Range

:

1.00 - 2.00 USD ($)
Product Description
With firm commitment to quality, we are successfully engaged in manufacturing, exporting and supplying a quality assured gamut of Deep Groove Ball Bearing 6304-2RS. Suitable for carrying radial loads, the offered bearing is precisely manufactured with the aid of latest techniques by utilizing supreme quality steel at our vendors' advanced manufacturing unit . Known for its supreme finish, the provided bearing is widely used in blowing pinsters, motors, power tools, printing machinery, etc. In addition to this, this Deep Groove Ball Bearing 6304-2RS is available in options of single row DBGG and double row DBGG.

Features:

Maintenance free functioning
High tolerance
Accurate dimensions
Sturdy construction

Other Details:

Series: 6000, 6200, 6400, 6700, 6800, 6900.

Model Open: Z, ZZ, RZ, 2RZ, RS, 2RS.


Technical Specifications :




Bearing Type

Pro-type NO.

I.D.

d

O.D.

D

Width

B

Rated Dynamic Load Cor (KN)

Rated Dynamic Load Cr (KN)

Grease

Oil

Weight

1

6000

100

10

26

8

30000

20000

0.016

2

6002

102

15

32

9

5.60

2.85

23000

27000

0.030

3

6003

103

17

35

10

6.00

3.25

21000

25000

0.039

4

6004

104

20

42

12

9.40

5.05

17000

21000

0.069

5

6005

105

25

47

12

10.1

5.85

15000

18000

0.080

6

6006

106

30

55

13

13.2

8.25

13000

15000

0.116

7

6007

107

35

62

14

15.9

10.3

11000

13000

0.155

8

6008

108

40

68

15

16.7

11.5

10000

121000

0.192

9

6009

109

45

75

16

21.0

15.1

9200

11000

0.245

10

6010

110

50

80

16

21.8

16.6

8400

9900

0.261

11

6011

111

55

90

18

28.3

21.2

7600

8900

0.385

12

6012

112

60

95

18

29.4

23.2

7100

8400

0.410

13

6013

113

65

100

18

30.5

25.2

6600

7800

0.435

14

6014

114

70

110

20

38.1

30.9

6100

7200

0.602

15

6015

115

75

115

20

39.5

33.5

5700

6800

0.638

16

6016

116

80

125

22

47.6

39.8

5300

6300

0.850

17

6017

117

85

130

22

49.5

43.1

5000

5900

0.890

18

6018

118

90

140

24

58.2

49.7

4700

5600

1.61

19

6019

119

95

145

24

60.2

53.9

4400

5200

1.21

20

6020

220

100

150

24

60.4

54.2

4300

5100

1.25

21

6021

221

105

160

26

72.3

65.8

4000

4700

1.59

22

6022

222

110

170

28

82.0

73.0

3800

4500

1.96

23

6024

224

120

180

28

85.0

79.3

3600

4200

2.07

24

6026

130

200

33

106

101

3200

3800

3.16

25

6028

140

210

33

110

109

3000

3600

3.55

26

6030

150

225

35

125

126

2800

3200

4.22

27

6032

160

240

38

136

135

2600

3000

5.22

28

6034

170

260

42

161

161

2400

2800

6.80

29

6036

180

280

46

182

194

2200

2600

10.3

30

6202

202

15

35

11

7.65

3.75

20000

24000

0.045