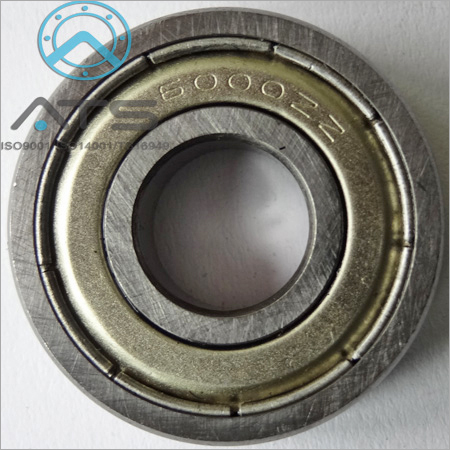 Deep Groove Ball Bearing 6000 ZZ
Product Code : 01
Product Description
Made of superior grade chrome steel or carbon steel, the Deep Groove Ball Bearing 6000 ZZ is used as an important part of low noise motor, elevators, textile and printing equipment, woodworking machinery and paper converting tools. With firm commitment to quality, we have emerged as a successful exporter and trader of Deep Groove Ball Bearing 6000 ZZ. The special attributes of this ball bearing are its ergonomic design, convenient installation technique, high mechanical strength and long service life.
Specification :
Series: 6000, 6200, 6400, 6700, 6800, 6900.
Model Open: Z, ZZ, RZ, 2RZ, RS, 2RS.
Quality accords with the Industry Standards.
Types: Single Row DBGG, Double Row DGBB, Stainless DBGG, DBGG with filling slots, Stainless Steel single Row DBGG, Single Row Hybrid DBGG, Single Row DBGG for High Temperature, Polymer Ball Bearings and soon.
Typical Applications: Bowling pinsetters, electric motors, elevators, fork lift trucks, paper converting, power tools, printing machinery, pumps, textile machinery, woodworking and so on.
Technical Specification :

| | | | | | | | | | | |
| --- | --- | --- | --- | --- | --- | --- | --- | --- | --- | --- |
| Sr.No. | Bearing Type | Pro-type NO. | I.D.d | O.D.D | WidthB | Rated Dynamic Load Cor (KN) | Rated Dynamic Load Cr (KN) | Grease | Oil | Weight |
| 1 | 6000 | 100 | 10 | 26 | 8 | | | 30000 | 20000 | 0.016 |
| 2 | 6002 | 102 | 15 | 32 | 9 | 5.60 | 2.85 | 23000 | 27000 | 0.030 |
| 3 | 6003 | 103 | 17 | 35 | 10 | 6.00 | 3.25 | 21000 | 25000 | 0.039 |
| 4 | 6004 | 104 | 20 | 42 | 12 | 9.40 | 5.05 | 17000 | 21000 | 0.069 |
| 5 | 6005 | 105 | 25 | 47 | 12 | 10.1 | 5.85 | 15000 | 18000 | 0.080 |
| 6 | 6006 | 106 | 30 | 55 | 13 | 13.2 | 8.25 | 13000 | 15000 | 0.116 |
| 7 | 6007 | 107 | 35 | 62 | 14 | 15.9 | 10.3 | 11000 | 13000 | 0.155 |
| 8 | 6008 | 108 | 40 | 68 | 15 | 16.7 | 11.5 | 10000 | 121000 | 0.192 |
| 9 | 6009 | 109 | 45 | 75 | 16 | 21.0 | 15.1 | 9200 | 11000 | 0.245 |
| 10 | 6010 | 110 | 50 | 80 | 16 | 21.8 | 16.6 | 8400 | 9900 | 0.261 |
| 11 | 6011 | 111 | 55 | 90 | 18 | 28.3 | 21.2 | 7600 | 8900 | 0.385 |
| 12 | 6012 | 112 | 60 | 95 | 18 | 29.4 | 23.2 | 7100 | 8400 | 0.410 |
| 13 | 6013 | 113 | 65 | 100 | 18 | 30.5 | 25.2 | 6600 | 7800 | 0.435 |
| 14 | 6014 | 114 | 70 | 110 | 20 | 38.1 | 30.9 | 6100 | 7200 | 0.602 |
| 15 | 6015 | 115 | 75 | 115 | 20 | 39.5 | 33.5 | 5700 | 6800 | 0.638 |
| 16 | 6016 | 116 | 80 | 125 | 22 | 47.6 | 39.8 | 5300 | 6300 | 0.850 |
| 17 | 6017 | 117 | 85 | 130 | 22 | 49.5 | 43.1 | 5000 | 5900 | 0.890 |
| 18 | 6018 | 118 | 90 | 140 | 24 | 58.2 | 49.7 | 4700 | 5600 | 1.61 |
| 19 | 6019 | 119 | 95 | 145 | 24 | 60.2 | 53.9 | 4400 | 5200 | 1.21 |
| 20 | 6020 | 220 | 100 | 150 | 24 | 60.4 | 54.2 | 4300 | 5100 | 1.25 |
| 21 | 6021 | 221 | 105 | 160 | 26 | 72.3 | 65.8 | 4000 | 4700 | 1.59 |
| 22 | 6022 | 222 | 110 | 170 | 28 | 82.0 | 73.0 | 3800 | 4500 | 1.96 |
| 23 | 6024 | 224 | 120 | 180 | 28 | 85.0 | 79.3 | 3600 | 4200 | 2.07 |
| 24 | 6026 | | 130 | 200 | 33 | 106 | 101 | 3200 | 3800 | 3.16 |
| 25 | 6028 | | 140 | 210 | 33 | 110 | 109 | 3000 | 3600 | 3.55 |
| 26 | 6030 | | 150 | 225 | 35 | 125 | 126 | 2800 | 3200 | 4.22 |
| 27 | 6032 | | 160 | 240 | 38 | 136 | 135 | 2600 | 3000 | 5.22 |
| 28 | 6034 | | 170 | 260 | 42 | 161 | 161 | 2400 | 2800 | 6.80 |
| 29 | 6036 | | 180 | 280 | 46 | 182 | 194 | 2200 | 2600 | 10.3 |
| 30 | 6202 | 202 | 15 | 35 | 11 | 7.65 | 3.75 | 20000 | 24000 | 0.045 |